This page is the brochure for your selected program. You can view the provided information for this program on this page and click on the available buttons for additional options.
Ancient Wisdom Meets Modern Science, Healing in Amazonia
Featured:
Program Type:
WCU Faculty
Credit Type:
Direct WCU Credit
Faculty Director:
Mary Robinson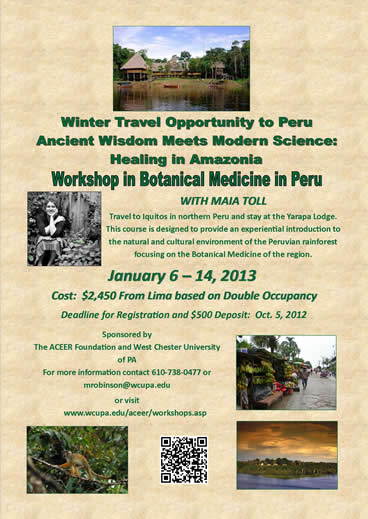 This 3 credit winter session program is designed to provide an experiential introduction to the natural and cultural environment of the Peruvian rainforest focusing on the botanical medicine of the region.




Itinerary
Day 01 USA/LIMA
Sun. Jan. 6
Travel from USA to Lima, each guest is met upon arrival in Lima and transferred to the Hotel Manhattan.
In-flight meals
Overnight Lima – Hotel Manhattan
Day 02 LIMA to Iquitos
Mon. Jan. 7
After breakfast, transfer to Lima airport for the flight to Iquitos. Only accessible by air or boat, Iquitos is the world's largest city that cannot be reached by car. The city exploded during the rubber boom of the late 1800's through early 1900's and is experiencing a resurgence of popularity, mostly due to tourism.
Once you arrive in Iquitos, you will be transferred to Hotel Dorado Isabel to check in and have lunch. After lunch, you will visit the Institute for Traditional Medicine for a presentation and a tour of their gardens. When you return to the hotel, there will be a short orientation of the area. Dinner will be on your own in the town and overnight at the Hotel Dorado Isabel.
Breakfast at Hotel Manhattan
Box lunch in Iquitos
Dinner on your own
Overnight at the Hotel Dorado Isabel
Day 03 IQUITOS TO YARAPA LODGE
Tues. Jan. 8
After breakfast the group will visit the medicinal plant stands at the Belen market before traveling by bus and boat to Yarapa Lodge. Yarapa Lodge is located near the confluence of the Ucayali and Marañon rivers and at that point the mighty Amazon River begins. At the Lodge you will be in what is called varzea, or flooded forest, a unique ecosystem that will set the stage for our exploration of the forest and its rich array of botanical medicines. Once you have settled in you will have an orientation meeting and a hike in the late afternoon. Dinner and overnight will be at the lodge.
Breakfast – Hotel Dorado Isabel
Lunch/Dinner – Yarapa Lodge
Overnight – Yarapa Lodge
Day 04 – Day 07 YARAPA LODGE
Wed. thru Sat. Jan. 9 - 12
The next four days will be spent exploring the areas in and around the Yarapa Lodge. Activities may include some or all of the following: exploring the medicinal plant gardens; hikes to the villages surrounding the lodge; field/lab activities around traditional use of medicines; ceremonies by shaman Don Antonio; medicine/food preparation demonstrations.
Breakfast/Lunch/Dinner: Yarapa Lodge
Overnight: Yarapa Lodge
Day 08 YARAPA LODGE TO IQUITOS TO LIMA
Sun. Jan. 13
After breakfast, you will reverse your journey by boat and bus back to Iquitos, where you will have lunch and then be transferred to the airport for your return flight to Lima. You will be on your own in the Lima airport for dinner before boarding your overnight flight to the US.
Breakfast: Yarapa Lodge
Lunch: Local Restaurant in Iquitos
Dinner: On own in Lima airport
Overnight flight to US
Day 09 ARRIVAL IN THE USA
Mon. Jan. 14
International flights arrive in US.

Course Syllabus

Instructor: Maia Toll
Phone: 610-738-0477
Email: mtoll@wcupa.edu or mrobinson@wcupa.edu
Office Hours: by appointment

Overview: This course is designed to provide an experiential introduction to the natural and cultural environment of the Peruvian rainforest focusing on the Botanical Medicine of the region.
Course Objective(s)
Among the objectives of this course are to:
A. Develop a greater interest in the natural world and the Peruvian culture
B. Compare and contrast the modern use of Botanical Medicine in Peru with the Traditional uses of plant based remedies
C. Develop an understanding of the medical traditions of Peru including the use of food, botanicals, and shamanic practices
D. Further your knowledge of Botanical Medicine preparations and uses
E. Gain field experience in Plant Identification
F. Create a narrative presentation highlighting the connections between modern and traditional medicine in Peru
Student Learning Outcomes:
At the conclusion of the course, students will be able to:
1. Understand the culture and customs of the local people of the Peruvian Amazon.
2. Identify botanicals that are currently used for export in Peru and conditions for which they are used.
3. Identify plants being researched for future use as botanical or pharmaceutical ingredients.
4. Recognize botanicals in the rainforest.
5. Understand the variety of Traditional Medicine practices that incorporate botanicals.
6. Identify which Traditional Botanicals are used for various conditions.
7. Understand basic preparations of Botanical Medicines including food as medicine.

Required Readings:
Taylor, Leslie, The Healing Power of Rainforest Herbs (Square One Publishers, Garrick NY,
2005).
Arvigo and Epstein, Rainforest Home Remedies (HarperOne, NY NY, 2001).
Other Resources:
Leslie Taylor, founder of Raintree http://www.leslietaylor.net/
Medicine Hunter http://medicinehunter.com/
John Kricher, A Neotropical Companion: An Introduction to the Animals, Plants, and
Ecosystems of the New World Tropics. 2nd Edition (Princeton University Press, 1997).
Ross Wehner & Renee Del Gaudio, Peru (Moon Handbooks
Rob Rachowiecki, Charlotte Beech, Paul Hellander, Lonely Planet Guide: Peru (6th edition)
Amazon Conservation Association www.amazonconservation.org (Los Amigos)
Assignments



Narrative Project:

The primary assignment for the course is to produce a documented narrative
account of your experience, which you will be asked to present during the Spring 2012 semester.
The purpose of the project is to weave together knowledge, reflections, photographs, research,
botanical drawings, and other material. The goals of the narrative is two -fold: to show the links
between the traditional wisdom of the Amazon and the modern botanical industry, and to help
you to create a bridge between your Peruvian experience and your daily life.
The narrative's focus will be on the plants and your personal experience, but you will need to do
the following in order to develop the content for your production:

Reading/Research: Use the course texts and resources to develop in-depth knowledge
related to trip topics, destinations, and activities.

Trip Journal: Keep a daily log of experiences, reflections, facts, and figures, which you
can use to add detail to your project. It will also help you remember experiences.

Photos/Video/Drawings: Plan on taking photographs and/or video or doing some
sketching to illustrate and document subject matter.
Artifacts: When appropriate, acquire artifacts/souvenirs to add depth to your project.
(e.g. dried plant material, maps, brochures, etc.).



Course Requirements and Grading:

1) Participate in the January 2013 trip to Peru.
2) Read required texts as well as any other audio/visual assignments given by instructor, complete
narrative project, participate in narrative project presentation.
3) Participate in activities and discussions while in Peru. Active participation will be used as a final grade "booster" for students that are on the cusp between two grades.

GRADING:

All written work will be graded on the following criteria (papers will be given a content grade and an editorial grade that will be averaged into one grade using the weights indicated below). Please note that any hand-written journal excerpts will not be subject to editorial scrutiny!
Scholarship/Conceptual Content (70%):
1. Effective use of knowledge: analysis and integration of information from the appropriate and relevant literature (and lectures and class discussions, if appropriate); accurate understanding and communication of information
2. Scholarliness of content (appropriate use of professional literature, depth of analysis)
3. Inclusion of the rationale and logic of your perspective whenever you express personal points of view (i.e., always back up your opinions with data, established theory, or a logical explanation)
4. Adequate support for your thesis and conclusions - A conclusion section based on the foregoing presentation that is not vague and overly general
Editorial (30%):
5. Organization (thesis stated in introduction, smooth relationship between ideas and between paragraphs, overall structure, concluding paragraph)
6. Clarity (understandability; good, readable style)
7. Proper syntax, grammar and spelling
8. Proper use of citation and referencing style (where appropriate). The Department uses the American Psychological Association guidelines. You can find an on-line version at http://www.docstyles.com/apacrib.htm.


GENERAL GUIDE TO MEANING OF LETTER AND NUMERICAL GRADES

adapted from a syllabus written by Dr. Angela Gillem, Professor of Psychology at Arcadia University
LETTER NUMBER WORK TO WHICH GRADE APPLIES
GRADE GRADE
A+ 98-100 This grade reserved for the EXTRAORDINARY and FLAWLESS!
A 94-97 4.0 For work that is deep, comprehensive, original and of EXCEPTIONAL quality
A- 90-93 3.7 EXCELLENT work that explores deeply and comprehensively but has some minor flaws or rough edges
_________________________________________________________________
B+ 87-89 3.3 Work that is VERY GOOD, does everything that is
called for with some distinction, and shows a much better than average understanding or level of research or imagination, etc.
B 83-86 3.0 Work that is GOOD, does most of what could be asked for in
a more than just satisfactory way.
B- 80-82 2.7 Work that is FAIRLY GOOD, is of a more than just satisfactory
nature, but at the bottom of what is better than average.
__________________________________________________________________
C+ 77-79 2.3 Work that is SATISFACTORY, but no more than that, does
on a whole what is asked for but does not go beyond minimal expectations
C 73-76 2.0 Work that is JUST FAIR, is all right but weak in conception, execution
.
C- 70-72 1.7 Work that is POOR BUT HONEST.
__________________________________________________________________
D+ 67-69 1.3 Work that is PASSING, seriously confused,
misguided, irrelevant, etc., but shows some effort.
D 63-66 1.0 Work that is ONLY PASSING, same as the above, but without the effort.
D- 60-62 0.7 Work that is BARELY PASSING, but apparently only by accident
__________________________________________________________________
F up to 59 0.0 Work that DOESN'T CUT IT. Not done, poorly done, or in some fundamental way dishonest.
Department of Health, West Chester University of Pennsylvania

ACADEMIC INTEGRITY

It is the responsibility of each student to adhere to the university's standards for academic integrity. Violations of academic integrity include any act that violates the rights of another student in academic work, that involves misrepresentation of your own work, or that disrupts the instruction of the course. Other violations include (but are not limited to): cheating on assignments or examinations; plagiarizing, which means copying any part of another's work and/or using ideas of another and presenting them as one's own without giving proper credit to the source; selling, purchasing, or exchanging of term papers; falsifying of information; and using your own work from one class to fulfill the assignment for another class without significant modification. Proof of academic misconduct can result in the automatic failure and removal from this course.
For questions regarding Academic Integrity, the No-Grade Policy, Sexual Harassment, or the Student Code of Conduct, students are encouraged to refer to the Health Department's Undergraduate Handbook, the Undergraduate Catalogue, the Ram's Eye View, and the University website at www.wcupa.edu. Please understand that improper conduct in any of these areas will not be tolerated and may result in immediate ejection from the class.

AMERICANS WITH DISABILITIES ACT

If you have a disability that requires accommodations under the Americans with Disabilities Act (ADA), please meet with me as soon as possible so that I can support your success in an informed manner. If you would like to know more about West Chester University's services for students with disabilities, please contact the Office of Services for Students with Disabilities which is located at 223 Lawrence Center and can be reached at 610-436-3217 and at ossd@wcupa.edu. Bring the resulting documentation to the instructor.
EXCUSED ABSENCES POLICY FOR UNIVERSITY-SANCTIONED EVENTS

Students are advised to carefully read and comply with the excused absences policy for university-sanctioned events contained in the WCU Undergraduate Catalog. In particular, please note that the "responsibility for meeting academic requirements rests with the student," that this policy does not excuse students from completing required academic work, and that professors can require a "fair alternative" to attendance on those days that students must be absent from class in order to participate in a University-Sanctioned Event.

EMERGENCY PREPAREDNESS

All students are encouraged to sign up for the University's free WCU ALERT service, which delivers official WCU emergency text messages directly to your cell phone. For more information and to sign up, visit www.wcupa.edu/wcualert. To report an emergency, call the Department of Public Safety at 610-436-3311.
For more information, please visit our department website at
http://wcupa.edu/_academics/healthsciences/




| Term | Year | App Deadline | Decision Date | Start Date | End Date |
| --- | --- | --- | --- | --- | --- |
| Winter | 2014 | 09/15/2013 | 09/15/2013 | TBA | TBA |