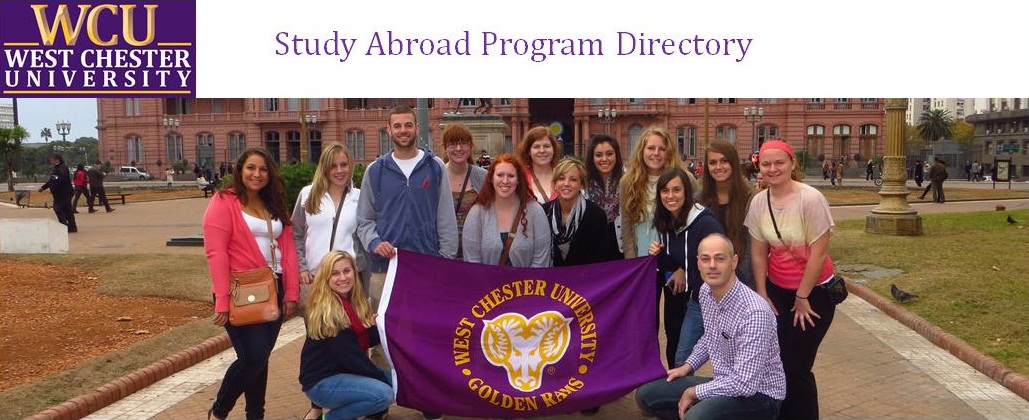 This page is the brochure for your selected program. You can view the provided information for this program on this page and click on the available buttons for additional options.
Vira I. Heinz Program for Women in Global Leadership - Beginning Summer 2015
Worldwide, Worldwide
(Outgoing Program)
Featured:
Program Terms:
Summer I

Restrictions:
WCU applicants only
Overview
The Vira I. Heinz (VIH) Program for Women in Global Leadership prepares women for tomorrow's global challenges by offering a unique opportunity for international experiences, leadership development and community service. Universities and colleges across Pennsylvania participate in the VIH Program. Young women from each of the participating institutions are admitted into the program and receive a scholarship to apply toward the cost of an international experience of their choosing.
Ultimately, the goal of the VIH Program is to "prepare women leaders for tomorrow's global challenges." This unique model creates global citizens by developing leadership and intercultural competency skills and instills passion for life-long learning and civil engagement. More importantly, it is shaping an annual cohort of young women whose decisions and actions as future leaders will have a far-reaching impact locally and potentially globally.
Program Outline
The VIH Program has three principal components: the international experience, the Community Engagement Experience and two weekend-long, intensive leadership development retreats. During the spring semester prior to and the fall semester following their international experiences, the awardees meet in Pittsburgh, PA. This training provides the awardees with a foundation of skills necessary to maximize cultural learnings while abroad and, upon their return, to engage their leadership skills in their own communities.
The curriculum of the retreats is designed so that the participants explore the fundamentals of leadership: self-knowledge, integrity, accountability, valuing others and global perspectives. Participants learn to challenge current mental models and deeply-held assumptions related to gender, race, class and religion, as well as to cultivate an in-depth understanding of how these vary in different regions and cultural settings. The VIH Program is guided by the following parameters: effective leadership requires intercultural competency; leadership development incorporates self-knowledge and personal growth; leadership competencies include knowledge, skills, and attitudes that are strengthened through experience and reflection; and, leadership development is a life-long endeavor.
The objective of the first retreat is to enhance intercultural competencies and global perspectives. The focus of the second retreat is three-fold: first, students go through the process of reflecting on their international experiences to then transform them into developmental experiences; second, students explore the intersection of gender and leadership; third, VIH awardees are guided to embrace a personal ethic of social responsibility in diverse communities that will find its expression in the Community Engagement Experience (CEE).
VIH awardees are mentored by their Campus Coordinators as they further develop their leadership skills and complete the components of the VIH Program. As new cohorts are admitted into the program, the active involvement of the prior cadre of awardees is retained through the latter's senior year. The opportunities available to the program participants throughout their college years and beyond provide a forum for the young women to continue to strengthen the fundamentals of leadership.
Timelines and Deadlines
Deadline: November 1, Application will be available during Summer 2014, exact date TBD
Incomplete or late applications will not be accepted you must submit all components of the application to the Campus Coordinator of your institution in order for your application to be considered valid. Faxed applications will not be accepted. Finalists will be chosen and contacted by their Campus Coordinator for an interview.
If you have any questions about this application process, please contact your institutions Campus Coordinator or the Program Coordinator. All contact information can be found on the VIH website at: http://www.viraheinz.pitt.edu/
Eligibility
Undergraduate woman of sophomore or junior status at one of the VIH institution.
U.S. citizen
-Full-time student status for no less than 2 terms (Baccalaureate degree in progress)
-GPA of not less than 3.0 at the time of application and throughout the program.
-Will return to the university as a full-time student the fall semester following the international experience
-Is available to attend all activities during two mandatory weekend retreats: one during the spring term prior to studying abroad and one during the fall following the study abroad experience
-Commit to meeting all requirements of the VIH Program, including, but not limited to: a) submitting an Experience Report; b) completing a CEE and submitting a CEE Report; c) completing all assignments for the two retreats; d) assisting with the marketing of the VIH Program for no less than 12 hours
-International experience must take place in one country (no multi-country experiences)
-International experience must be accredited and last for at least 28 days
Preference is given to women who fall within one of the four indicators of diversity as designated by the Heinz Endowments: race/ethnicity, GLBT, disability, financial need
The Heinz Endowments stipulate that women admitted to the VIH Program at each of the VIH institutions cannot have any international experience for any reason (study or personal travel) prior to the international experience funded by the VIH Program. The only exceptions to this are the Arcadia freshman Preview Program and travel to Canada. At least one of the three women admitted into the VIH Program at each of the institutions must fall within one of the four indicators of diversity as designated by the Heinz Endowments: GLBT, disability, racial or ethnic minority, and/or financial need as defined by receiving a Pell Grant.
Application Process Timeline & Core Components
Applicants select one or more of the five major programming areas of the Heinz Endowments (Arts and Culture; Children, Youth and Families; Economic Opportunity; Education; and the Environment). The Heinz Programming Area will serve as a common theme linking the students academic interests, goals for her international experience, her Community Engagement Experience and her career goals.
Applicants complete and turn in their applications (and Student Aid Report if applicable)
Scholarship committees at each of the VIH institutions review applications, interview applicants and select three candidates and up to two alternates and submits all information to a Centralized Committee.
Awardees work with their Campus Coordinators for up to ten days to select a program that meets their academic goals and fits within their budget.
Awardees sign a Letter of Agreement and submit it to their Campus Coordinators.
Awardees have the option to participate in a peer-to-peer mentoring program and/or are mentored by their Campus Coordinators.
Students will attend the first of two mandatory retreats in March.
The international experience of no less than 28 days for academic credit takes place in the summer after the spring retreat.
Awardees submit a detailed Experience Report to their Campus Coordinators by September 1.
Awardees attend the second of two mandatory retreats in September.
Awardees complete a Community Engagement Experience (CEE) within one year of their international experience. Awardees must submit via email a CEE Approval Form and CEE Report to both their Campus Coordinator and to the Program Coordinator. They must also email the Program Coordinator a Feedback Sheet and complete a 15 minute online survey by September 1 of the following year, in order for their final $1,000 to be released.
Contact Information:
Angela Howard
Assistant Director
Center for International Programs
West Chester University
West Chester, PA 19383
Phone: 610-315-3515
E-mail: ahoward@wcupa.edu
Information hosted at the University of Pittsburgh:
www.viraheinz.pitt.edu
There are currently no active application cycles for this program.